The classic Dark and Stormy boasts a rich history rooted in seafaring and camaraderie. Stay on deck for some tall tales, and the best dark and stormy recipe from this side of Bermuda.
There's great excitement in pairing cocktails to the seasons, and Autumn's arrival begs a fresh menu of drinks to match the beautiful bronze color palette. Cue the dark & stormy; an alcohol-based cocktail hailing from the shipwreck capital of the world.
For context, there are an estimated 300 unidentified vessels currently wrecked on the floor of the North Atlantic Ocean, in the region known as Bermuda. While many will infer paranormal activity as the cause, the truth is that this seabed is host to 200 square miles of dense coral reef, known for mangling ship's hulls.
In 1806, a man named James Gosling was commander of an English ship called The Mercury. He and his crew spent a tiresome 91 days weaving through the catastrophic reefs, narrowly avoiding the same fate as those vessels laying below. Finally, Bermuda's coast line came into view and the English settled on the land for the foreseeable decades.
By 1857, the Gosling family were distinguished in the island's local rum production business. Conveniently, another British favorite was also produced in these parts: ginger beer. The Gosling rum was famously dark and molasses-filled, and paired memorably with the tartness of the ginger ales. The birth of the Dark & Stormy was inevitable.
What is the Best Rum for Dark and Stormy?
The combination of the syrupy rum atop the lighter ale lead to a local sailor drawing comparisons between the murky drink and the storm clouds they often encountered at sea. "Murky and cloudy" was a short jump to Dark & Stormy!
This versatile mix calls for little more than a quality dark rum, offering spice that balances the sharp bite of the accompanying ginger beer.
What is the best rum for dark and stormy? Diplomático's Traditional Range offers an exceptional candidate:
Our blend of rums aged for up to 8 years goes by the name of Mantuano. Neat or mixed, Mantuano maintains its complexity, opening up with aromas of dried fruits, delicate oak and vanilla. It's an ideal option for darker cocktails, including the classic Dark & Stormy.
Differences Between the Moscow Mule and the Dark and Stormy
Cocktail aficionados like to draw on the similarities between a classic Dark & Stormy and a good old Moscow Mule. The only real difference between these two Autumn cocktails is, in fact, the type of alcohol.
Dark and stormy ingredients include ginger beer, lime juice and a rum of choice. To make a Moscow Mule, one needs ginger beer, lime juice, and a vodka of choice.
While this may not be a major difference between the cocktails, it does lend to a stark contrast when it comes to taste. Mules are lighter and sweeter as the vodka doesn't do much to obstruct the flavors of the ginger ale and lime. In a Dark & Stormy, the spiciness and/or smokiness of the chosen rum creates a potent mask of the natural sweetness, offering a bolder flavor experience. Simply delicious.
A Moscow Mule is also traditionally served in a copper mug, while Dark & Stormy's mix better in a highball glass. Cheers!
If you're ready to taste our perfectly balanced Dark and Stormy recipe, we're ready to share it! This drink requires no advanced mixology skills and takes just a few seconds to put together (assuming your limes are squeezed in advance). Here's what you'll need for your Dark and Stormy cocktail:
A highball glass (or any other tall glass, ideally with a wide neck)
Ice
60ml Diplomático Mantuano
60ml ginger beer
20ml freshly squeezed lime juice
Lime wedge to garnish
Method
Fill your highball glass with ice.
Pour the ginger beer over the ice, allowing it to rest at the bottom of the glass.
Add the lime juice, and lightly stir it into the ginger beer.
Top with Diplomático Mantuano rum
Garnish with lime, and enjoy!
Five simple steps to the tastiest Dark & Stormy outside of Bermuda. As our seafaring friends would say, "Yo ho ho, and a bottle of rum!" — Bring on the storm clouds!
Related products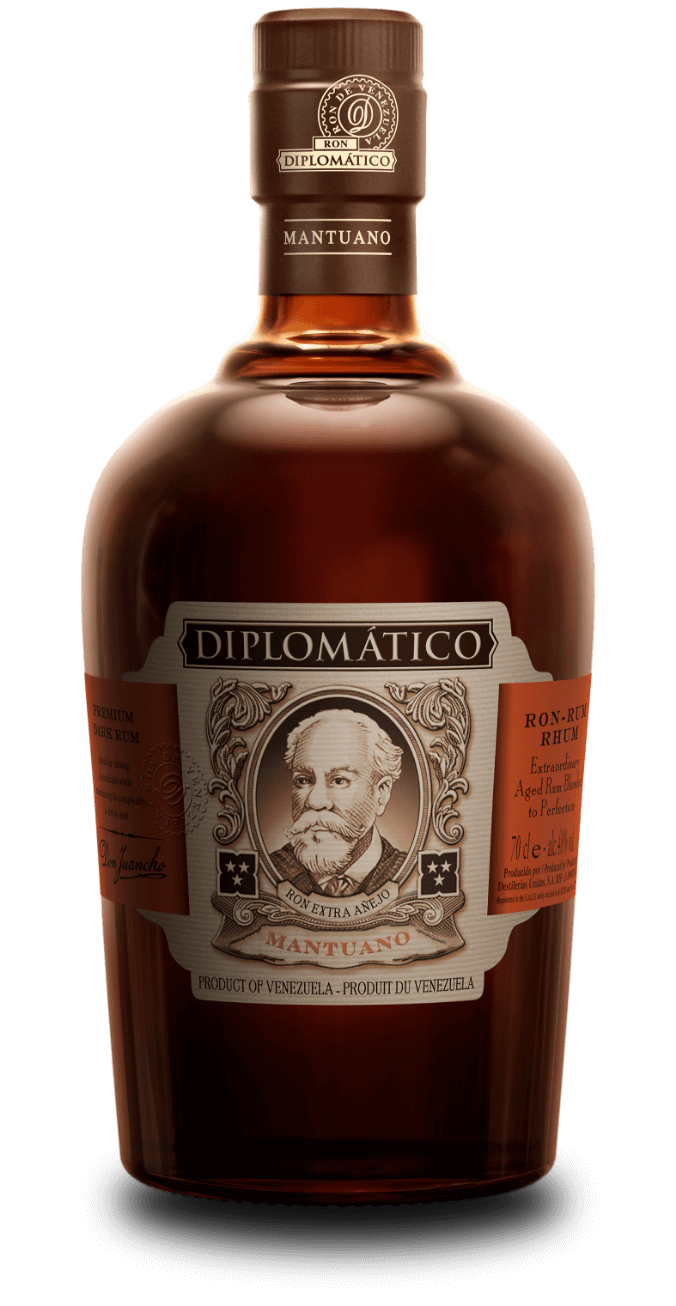 Tradition Range
Mantuano
Diplomático Mantuano is an authentic blend of rums aged for up to eight years. Versatile, Mantuano is ideal for mixing in long drinks  such as Rum Mule. Opening up with aromas of dried plums, oak an...
View product
Find your bar